Unique emerging market exposure 
Our risk profile is diversified and managed across 13 high-growth markets in Asia and Africa, with an embedded growth across the branch network, with ~40% of branches less than three years old. In addition, there is a massive market opportunity of ~372 million prospects in existing countries and a significant greenfield opportunity in new markets. Client, branch and net loans growth outlook is strong. Due to the potential impact of the spread of COVID-19, the Directors have decided to suspend the 2019 dividend until a final decision later in the year.
~372m
Prospects in existing countries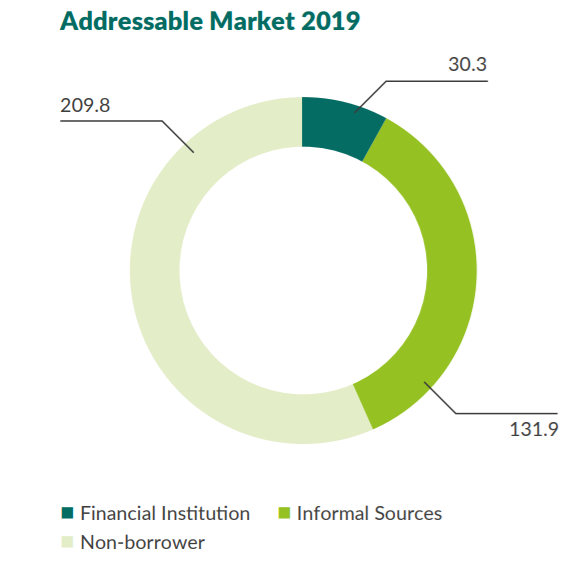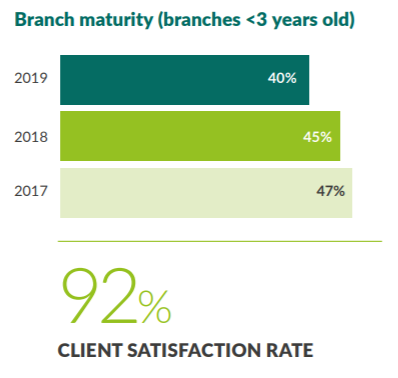 Experienced management team executes proprietary ASA Model  
Our experienced management makes sure we execute our proprietary microfinance 'ASA Model' in a disciplined way across all markets. The ASA Model is a low-cost, decentralised model, highly scalable and easy to replicate in existing and new markets. The ASA Model is based on the following principles and executed throughout the Company:
 
- All entities have the same policy and procedures for client mobilisation, selection, loan disbursement and collection. 
 
– We are convinced that the risk management features embedded within the ASA Model, in particular key features such as 'high-touch' client interaction, income-generating loans only and ongoing assessment of client needs and satisfaction, enable high returns and a low risk profile, with favourable RoAEs and non-performing loan ('NPL') ratios. 
 
– Our risk management framework consists of three lines of defence at both the Group and local entity level and our proprietary global IT platform. 
 
– Our proprietary banking system, has been developed in-house, which supports the scalability and the introduction to digital financial services if and when our clients are ready.
We know our clients very well
Managing credit risk is an integral part of our operating methodology. Loan officers are in regular contact with their clients through weekly, bi-weekly or monthly group meetings to collect loan instalments or deposits. This 'high-touch' model fosters close client relationships that allow branch employees to quickly identify any repayment or other issues being experienced by their clients and to target the disbursement of higher value, follow-on loans to clients who have successfully developed and expanded their businesses. The entire process of client selection and assessment is thorough, based on physical visits to the client's house, business, neighbours and family members and takes 14 days for a first cycle loan. These mechanisms help in preventing 'ghost' or fake loans and ensure that clients are not over-leveraged. Experience over the years has taught that in collateral free lending situations, one of the key factors that influences timely repayment is the relationship between the clients and the institution.
Socially responsible lender committed to financial inclusion 
Average disbursement is USD 288 for six to 12-month loans. We prevent our clients from over-borrowing by evaluating the loan amount based on each individual borrower's capacity to repay. The Company regularly benchmarks loan interest rates against equivalent providers and currently charges in a range from 23% to 50% per annum, depending on country, product and loan term. The interest rates offered are generally similar to those offered by other lending institutions for the same duration and loan sizes.
The Company provides collateral free loans and offers a moratorium on loan repayments in emergency situations (e.g. natural disasters, death of family member etc.). Where it is customary and allowed under the current license, the Company takes a security deposit.
The Company's lending methodology is without joint-liability. Borrowers receive individual loans. We incorporate the benefits of a group, while preserving each group member's individual aspirations, by making the group co-responsible only for nonfinancial obligations, such as the screening and selection of potential new clients. In addition, group members help foster financial discipline by encouraging each other to repay loans on a timely basis through social cohesion. Clients who comply with the terms of their loans and involvement within the group are never penalised for the poor performance of defaulting clients.
We only offer loans to start or grow businesses, rather than for general consumption purposes. In order to ensure compliance with this policy, loan officers visit a client's business as part of the initial loan application process, and review the use of prior loans when considering applications for future loans.
Only when a loan is repaid will clients be eligible to apply for a new, often larger, loan to further develop their businesses, based on an assessment of client needs and business potential. This is to ensure that clients do not become over-leveraged, and therefore unable to repay an existing loan.
There is a maximum increment and loan limit for each loan cycle, including follow-on loans, without the possibility of increasing the amount of existing loans before they are repaid in full. Follow-on loans are tailored to local conditions and take into account local inflation rates, as well as the earning capacity of the client's business. These follow-on loans are on average 20% to 50% larger than the previous loan.
Local staff are well trained and work alongside highly-skilled senior managers. Almost all of our field staff have been trained in-house and are eligible for promotion to more senior positions over time.