This list defines the types of businesses and projects that the Company does not finance.
The Company's ESMS provides an outline of various environmental and social management plans, policies and procedures comprising ESMS with their implementation procedure and responsibilities. The objective of ESMS is to avoid, eliminate, off-set, or reduce to acceptable levels, any adverse environmental and social effects, and to achieve environmental and social benefits with good governance practice. The system is consistent with IFC standard 1 and 2, SMART Campaign, Universal Standards for Social Performance Management and other relevant standards in the industry.
The environmental policy promotes actions the Company's staff must comply with to reduce and prevent harmful impact on the environment. The environmental policy will be reviewed and supported with the climate action plan in 2022.
The objective of the EPRP is to protect resources, clients and staff, to safeguard critical information, and to guarantee the continued availability of essential operations and services. The EPRP discusses strategies and plans through which the Company manages and responds to emergencies.
For 2021, the impact of natural calamities, such as floods and earthquakes, on the resources and the overall operation has been assessed across the Group. This data provides the Company with insights into its vulnerability to such calamities. The analysis is of significance to comprehend where and to which extent adaptation is necessary to mitigate risks. The assessment confirms that the Philippines is most frequently affected by natural calamities, the majority of which are seasonal tropical storms.
As the Company is fully transparent in the pricing and terms and conditions of its loans, it adopted the CPP, developed by SMART Campaign, a leading industry body in the financial inclusion industry, to consider client protection in all aspects of the business. CPP describes the minimum protection that microfinance clients should expect from their providers, and also the protection that an institution should maintain to serve the best interests of its clients. The Client Protection Principles are evaluated by the Client Protection Standards as part of the Social Performance Indicator assessment.
SPI4 is one of the most widely used social assessment tools for microfinance institutions ('MFIs) and helps MFIs evaluate their implementation of the Universal Standards for social performance management. On average, the Group scored a 91% out of 100, scoring highest (96% & 97%) on treating clients and employees responsibly. The data reflects a balanced performance demonstrating a strong execution on all dimensions. Almost all operating subsidiaries conducted this assessment in 2021, except Lak Jaya (Sri Lanka) due to Covid measures and ASA Zambia, considering it is a fairly new entity.
The annual CEY Survey assesses the financial benefit the loans provided to clients. The survey samples approximately 1% of total clients on their third or higher loan cycles. The CEY Key Performance Indicator is calculated by deducting the clients' weekly interest costs from their average weekly income derived from their business activity funded by the Company's loans. In 2021, the Client Economic Yield was 5.5%.
Through the Complaints Committees clients can provide feedback on services or lodge complaints about inappropriate behaviour or treatment by any of the Group's staff. This is facilitated through inter alia client complaint boxes in the branches. Every quarter a report is shared with senior management by the CCRC with the nature of complaints and actions taken. In 2021, a total of 574 complaints were received and resolved across the Group. All complaints were related to operational issues, such as follow-up requests regarding loan applications, requests to reconsider a loan denial and postponement of instalments. The reported issues were resolved through policy discussions and clarifications with clients.
A total of 3,939 colleagues, over 30% of the Company's employees, participated in the annual satisfaction survey resulting in a satisfaction rate of 85%. The staff satisfaction is broken down into professional, facility and department service satisfaction. The results show that the vast majority work well together, feel like they are treated fairly and that their tasks help them grow professionally.
This survey is conducted by interviewing three clients per loan officer, a total of 15 thousand clients, to estimate the client's satisfaction with the facilitation and actual products and services delivered. Facilitation includes, amongst others, the loan approval process, interest fee and insurance. Overall, a high satisfaction of 93% has been measured, an increasing trend since 2017. Clients are particularly satisfied with the loan duration, the continuity of the products and services meeting their needs and how these are explained by loan officers.
The Group has established an effective grievance mechanism for all employees throughout the company, allowing them to raise any work-related concerns or complaints without fear of reprisal. It provides a fair and quick means of dealing with complaints. It also serves as an outlet for frustrations and disconnects. In 2021, a total of six appeals and two direct complaints have been received across the Group. All six appeals have been dismissed. Regarding the two direct complaints, one has been resolved with action and the other one is in a stage of investigation. The Committee has made two recommendations after scrutinizing the reported 'actions taken' in response to the complaints.
The Group monitors and controls health and safety risks, regularly provides safety and awareness training to employees, takes preventive measures and emergency or corrective actions on workplace incidents or illness, and maintains safe equipment and infrastructures at the workplaces. Each operating subsidiary has formed a health and safety committee and an integrated occupational health & safety checklist with risk categories to ensure regular supervision and monitoring throughout the Company. In response to the pandemic, the Company took various temporary measures, such as creating awareness for safety measures, discouraging gathering in groups and offered social-distance-proofed work spaces.
Since March 2020, the number of staff members confirmed as infected by Covid increased to 459 of over 12,800 staff, with two deaths, as per December 2021.
Employees are encouraged to report any activity that may constitute a violation of laws, regulations or Company policy via a complaint box or to the Chairman of the Audit and Risk Committee locally, as well as at Group level. Examples of concerns are improper or unethical business practices, health, safety and environmental issues or violations of the code of conduct. In April and May 2021, training sessions were initiated and posters continue to be disbursed across the Group to raise awareness on this topic. No incidents have been reported across the Group in 2021.
Contact details: whistleblowing@asa-international.com
The Group is committed to protecting children who might be involved/affected directly or indirectly by its operations.
The Company promotes a safe work environment and have a zero-tolerance policy towards harassment of any kind, particularly sexual harassment.
One of the Group's core values is the promotion of inclusivity and diversity. Discrimination of any kind is unacceptable.
The Group's Code of Conduct and ethics is designed in a manner that is ethical, dignified, transparent, equitable and cost-effective, and which expresses the core values of microfinance practice.
This policy is to combat improper payments or inducements and provide basic guidance to all employees, wherever they are located. The Group adopts a zero-tolerance approach to bribery and corruption, ensuring compliance with all applicable anti bribery and anti-corruption laws and regulations, including the UK Bribery Act 2010.
The Company and subsidiaries are strongly committed to preventing money laundering or any activity that facilitates money laundering, or the funding of terrorist or criminal activities in its operations.
The Company employs a diverse workforce, with 33% female employees. The Company is also diverse in terms of age, with 56% of its employees under 30-years-old and 1% over 50.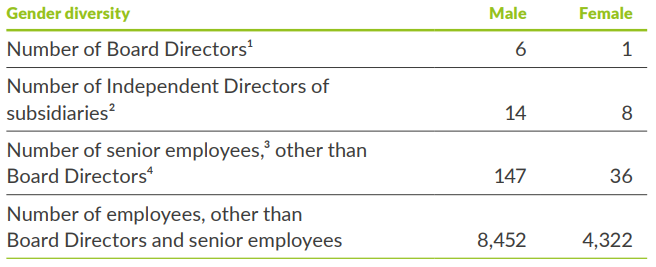 1 Includes Non-Executive Directors, excluded from Group headcount calculations. Figures as at 31 December 2021.
2 Not including Directors appointed on the Board of the plc.
3 Senior employees identified as material risk-takers who are not Directors or subsidiary Directors.
4 Includes subsidiary Directors who are excluded from Group headcount calculations.
Social performance management underpins ASA International's model. It ensures consistency and enables effective regulation across all the offices in the countries where ASA International operates.