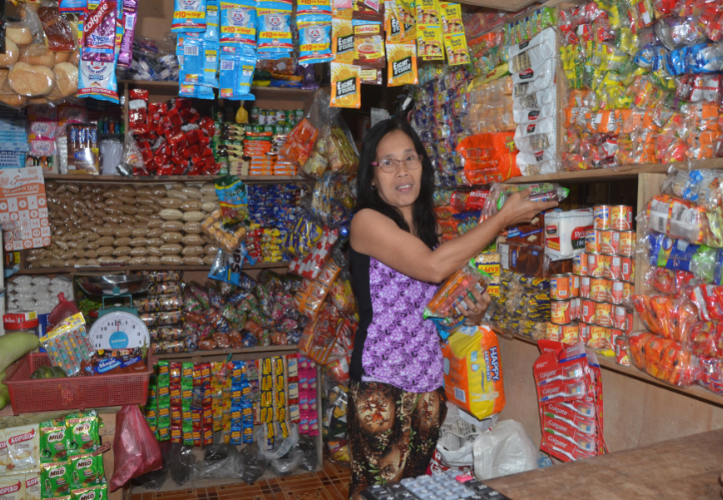 Naneth is a former Small Group Loan borrower and now a Small Business Loan borrower. She is on her 15th cycle of loan. Her first loan was Php 4,000 ($79) in 2014 and today it's Php 39,000 ($765).
"I started my banana cue business with an initial capital of Php 2,00.00 ($39). My income was 100% of my capital and it was not enough to support me and my daughter to cover daily expenses and her schooling. I am a single mom. I knew I had to do something and I asked for the Lord's guidance. My prayers were answered when Pagasa Philippines conducted a survey of our place and informed us about the microfinance programme. The products and services offered helped me change things around. We formed a group with 15 members and I vowed to myself that I would use the money wisely and would be a good client of Pagasa.
I owe everything to Pagasa Philippines. Without them my business would still be small and I would not be able to provide a decent life for my daughter."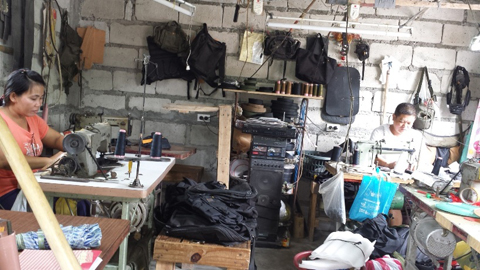 Eliza Usman has faced many challenges before starting her small tailoring shop, and plenty since.
After failing to complete her General Radio and Communication degree due to lack of financial support from her family, her switch into working at a children's clothes factory was brought to an abrupt halt after the factory closed, unable to compete with Chinese competition.
Although she met her husband, a sufferer of polio, and was able to develop her sewing skills while at the factory, like all employees, she only received a tiny amount of pay from six years of hard work.
Together with her husband, she used this small sum to start a tailoring shop to provide a regular income to pay to stay at their home and manage their household.
Business boomed and to support continued expansion, Eliza decided to apply for a Small Business Loan with ASAI in the Philippines.
"I have received loans from other lenders before but they all had very high interest rates especially when the pay-back term was so long. For one loan that lasted 36 months, the interest was over half the amount of the original loan," Liza commented.
 "It's a good thing we found ASAI because their lending rates are very reasonable. What's more, I can pay them on a weekly basis from the money earned from my shop and no longer worry. Before I know it, everything's paid up," said Liza.
Her shop, referred to by her loyal clientele and friends as Patahian ni Aling Liza (Aling Liza's Clothes Shop), is now 10 years old and continues to attract regular customers. She is now a supplier of bags, backpacks and belts to one of the biggest malls in the Philippines and other markets in Pampanga.
Previously a struggling factory worker, Liza now enjoys not only financial independence but also more free time to spend with her family. In between tending to her family's needs, she sews at least fifty bags a day with the support of her husband and employs three regular staff as trimmers and sewers.
"I am now able to save my money for the education of my three children. It was very difficult when I was a struggling employee, especially when it rained. The rain caused painful muscle spasms when we got wet after a day's work behind the machines. I'm glad that phase of my life is in the past now," she added.
Of the couple's three children, one son is now in the 3rd year of a Mechanical Engineering degree, another is in his 4th year of high school and the youngest is currently in grade 8.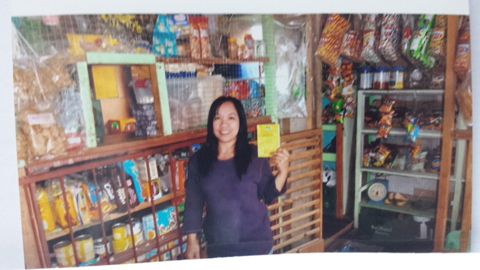 Limay Carrera typically starts her day by going to the market to find items that can be sold in both her her local neighborhood and to the entire community in Atok Trail in Baguio, the capital of the Philippines.
A native of the mountain province, she remembers what she has had to overcome since starting her business repacking things from markets and knickknack shops that she could sell to local children.
Limay was 21 when both of her parents died, forcing her to stop her accountancy qualification and begin working in the family trading business.
The tenth of eleven children, she decided to start her own business, but faced a further setback when her husband left her and her only son to fend for themselves only two years later.
Despite these challenges, Limay's business grew and she needed more money to fund expansion. Limay decided to apply for a loan with ASAI and was initially lent Php5,000 in September 2010. She is now on her 10th loan - Php21,000 - and is planning to apply for a Small Business Loan next.
"There were many lenders when I started my business, promising all sorts of schemes and incentives. Borrowing was easy," Limay explains.
"But looking back, I made the right decision to partner with ASAI. They have helped me a lot, because their loans and savings packages are tailored to low income people like me," Limay says.
"The staff explained the entire borrowing process - from the amounts I could borrow to the different payment schemes involved. With ASAI's help I have also been protected from the impact of several typhoons, and able to recover financially.
"Although I make a small profit, I feel proud to have my little shop."
From being the sole operator of the business doing the buying, packing up and selling, Limay's business store has now expanded to selling a wide range of goods from toys to dried baby squid, dilis (small dried fish), garlic, onions and pepper and a wide range all of canned goods.
Limay's son has also now joined the business and she remains confident of continued growth.