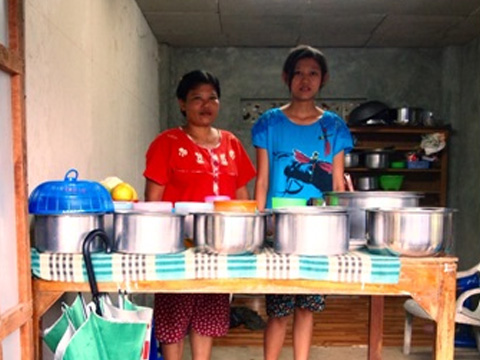 Win Win, a tailor and 45-year-old mother of two, had never borrowed before taking out a microcredit loan at ASAI.
In September 2014, alongside her husband she decided to take out a microcredit loan of 100,000 MMK and used the money to rent a sewing machine and purchase materials to make clothes she could then sell.
The business initially generated 15,000 MMK per week, allowing her to make 2,500 MMK in repayments and 500 MMK in compulsory savings each week. However, her daughter's course in international relations cost 2,000 MMK per day, leaving a small amount of money for family expenses.
After the 46 week cycle of her first loan came to an end and had been repaid, she decided to borrow again, receiving a second cycle of 160,000 MMK in September 2015 to invest in a new business: a food store. While the shop's monthly rent was 40,000 MMK per month, her daily sales have grown to 20,000 MMK, leaving her with 7,000 MMK in profit.
As well as boosting the family's living conditions, Win Win has also learned to save with ASAI. After repaying the loan she plans continue to boost her savings for her children and for future endeavours.
"ASAI's interest rate is very reasonable and I enjoy working with my loan officer", she said.
"I am now considering engaging in a third loan cycle when the second comes to an end to expand my business and set up a cold drinks vending point for the summer."
Her loan was one of the three MFIs supported by UNCDF within the Micro Lead programme.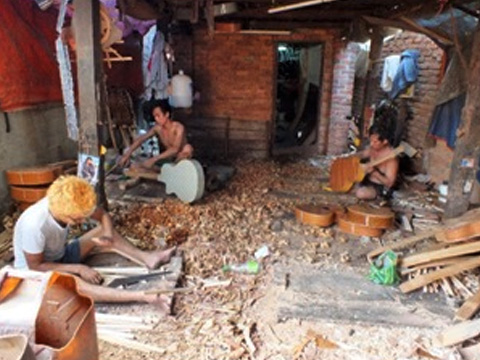 Khin Thidar Lin, a resident of Salone Quarter, North Okkalapa Township, used to sell traditional Burmese food like "Muhinga" on the footpath adjacent to her house. But she was unable to generate enough income to support her family of three, and had to cease all business activity.
In June 2012, she invested 200,000 Myanmar Kyats of her own capital to open a guitar shop alongside her husband after working in a guitar factory in Yangon City in her adolescence
After seeing the demand for guitars increase rapidly, she decided to apply for a small loan from ASAI, and her application was duly accepted.
Using her initial one-year loan of 200,000, she hired another guitar maker and purchased additional guitar-making materials and has seen the business soar since.
Khin has been able to continue to expand her business by purchasing machinery, hiring more staff, and increasing production and sales.
Underlining her success, Khin's products are now sold at renowned markets and malls throughout Yangon City, including the Bogyoke Market and the Ocean Shopping.
"I am proud to help my community by creating jobs and now employ seven members of staff", she said.
"With the continued support of my family and ASAI I am looking forward to continuing to develop my business."